Takeover of ESA by Stiftung für die TU Kaiserslautern (Foundation of TUK) and common steps
By end of May, ESA was officially handed over to Foundation for TU Kaiserslautern, thank you very much! Finally, there are new long term rental agreements. For one symbolical Euro, foundation was granted ownership over ESA building. We also like to thank Bau-AG Kaiserslautern, which agreed to do administrational work. For renovation purposes, all kinds of measurements are taking place within our house. For this reason, an architect from 'Kern, Kirchmer & Spitzley'-office was assigned a dedicated study room in ESA. The enterprise ee-concept deals with building physics. Several measurement units where placed within ESA, which keep track of temperature, air humidity and carbon dioxide levels. This could lead to the development of new heat-, ventilation- and energy concepts.  Furthermore, the drainage and irrigation system could be redeveloped.  We residents are in direct contact with all involved people and companies. Additionally, we take care of renovation and reparation as good as we possibly can. Finally, we welcome our new roommate! The foundation offered him to do a FÖJ (voluntary ecological year) and to live with us for one year, which is usually only allowed for students.
Presentation Dr. Pfeifer Kybernetische Architektur on 21.01.19
On Monday, we were visited by Prof. Günter Pfeifer as well as numerous other interested parties. Following a house tour, many interesting discussions and ideas were exchanged over coffee and cake. It was also an opportunity for the house's former Construction Manager Wolf Hoffmann to see the project and exchange ideas about future-proofing ESA. After all of this input we went to the Department of Architecture, where Prof. Pfeifer showed us his many years of research experience on cybernetic architecture, called "The cybernetic principle. The foundation of sustainable architecture." (Das kybernetische Prinzip. Grundlage nachhaltiger Architektur). The results of his work were clearly demonstrated by the realisation of his experimental construction projects, which you can find out more about on his website (www.guenterpfeifer.de).
Day of open ESA on 12.12.2018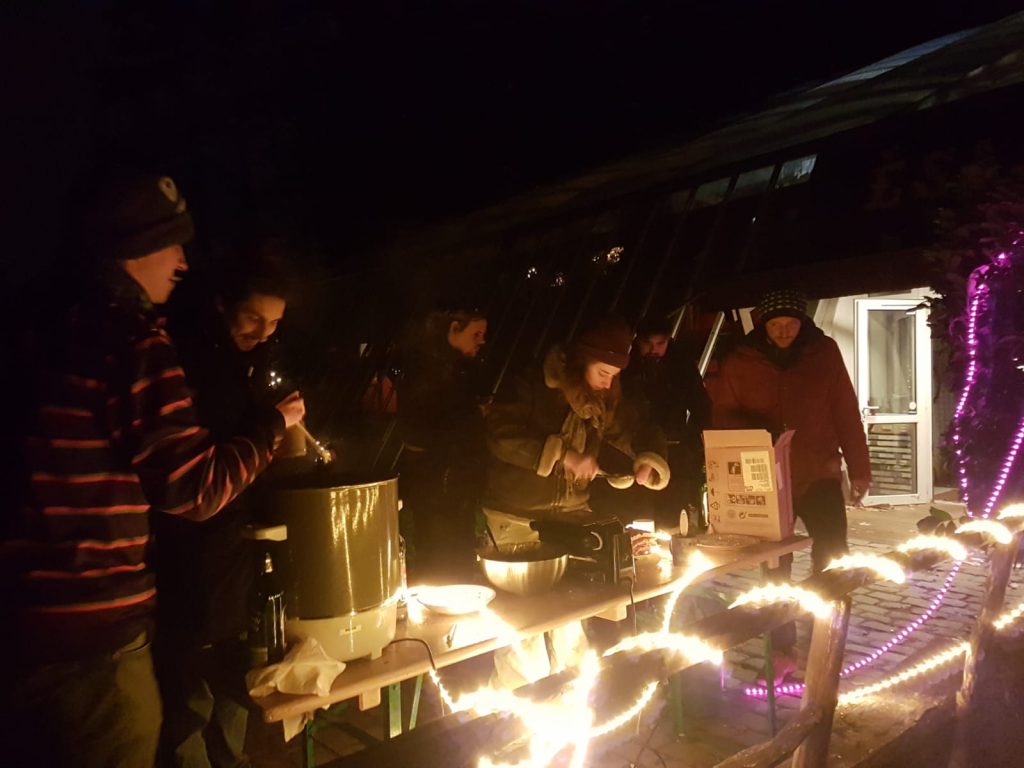 In recent years, ESA have hosted an event called "Spekulatium" at Christmastime, attracting visitors to the house with waffles, mulled wine and festive spirit in the form of music and storytelling.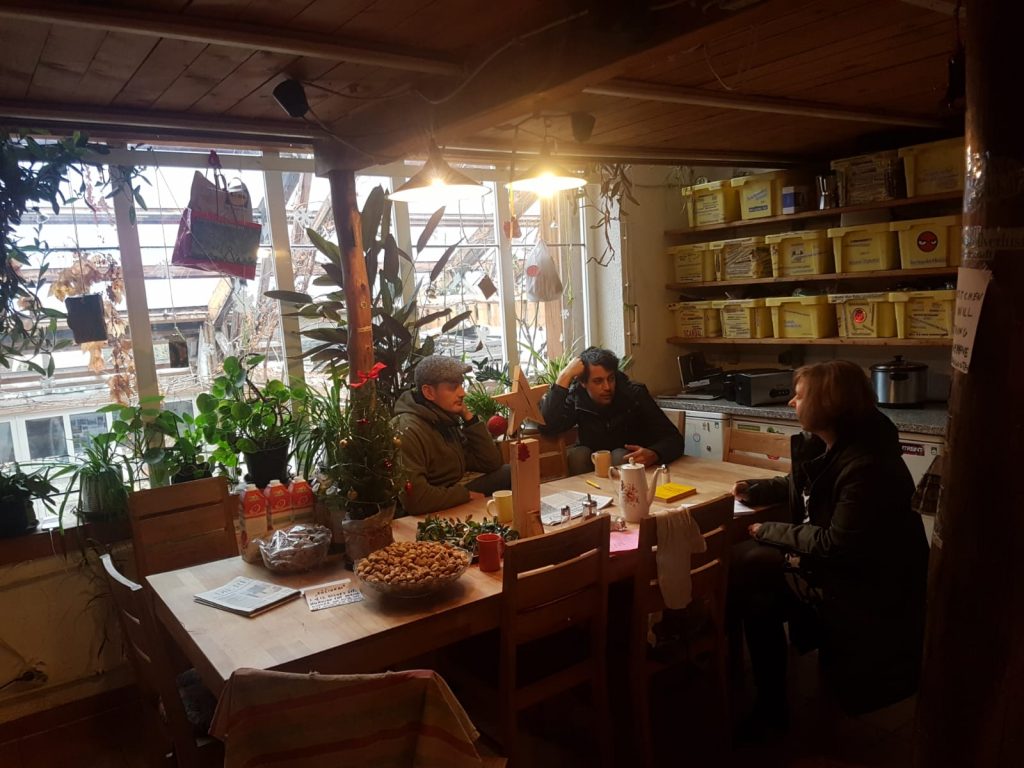 This year we expanded the event and turned it into an ESA Open Day. Waffles and Glühwein (mulled wine) were sold for donations from 10am onwards. Inside the house, the findings from the workshop were displayed on boards. The day was spent interviewing, giving tours, tie-dying and doing other crafts. We collected lists of supporter's signatures as well as posters full of their hand- and footprints. For us residents this day brought new acquaintances and followers to our movement, as well as colourful and cheerful goings-on in our home and last but not least a little more hope in our project.
Board Meeting of the Studierendenwerk on 10.12.18
The board meeting of the Studierendenwerk took place on 10.12.18, where we spoke about our concerns and the new movement and received positive feedback. However, the Studierendenwerk reiterated here that further sponsorship was not desirable.
Workshop 1 ESA 2.0 on 14.11.2018
Weekly meetings, cogs turning, and lively debates… yet again and again the realisation: we need more expertise and supporters to have the chance to save our beloved ESA. Thus, the decision was made to create a professor/planner workshop to educate influential people at the university about the unique selling points of the house and what it is that really makes ESA. Press, the TU KL Studierendenwerk, developers, architects, Campuskultur, Unisport and Campusplus, the campus TV-team as well as both past and present residents of ESA all took part in the action. Firstly, the history of the house's creation, and "Well.Being" – the house and its inhabitants, appraisals and the future optimisation – was presented in four blocks. After guided tours of the house and lunch together at ESA, we returned to the workshop to split into four groups to focus on future preservation. These consisted of Promotion and Financing, Construction and Technology, Public Relations and finally Sponsorship and Operation. To finish we presented our results to each other, inspiring some exciting and important discussions. For example, the Studierendenwerk made it clear that they view further sponsorship of the house as uneconomic and not something they really want to consider.